Published April 10, 2017
2018 Audi Q5: New and Improved in Every Way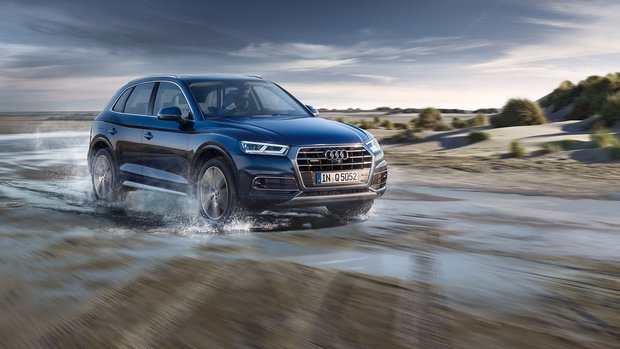 The previous-generation Audi Q5 hit the market in 2009, and is now the best-selling compact SUV in its segment.
The previous-generation Audi Q5 hit the market in 2009, and since then it has become not only the best-selling model in the Audi lineup, but also the best-selling compact SUV in its segment. Introducing an all-new Q5 was therefore necessary to keep momentum going, but Audi had to make sure that the 2018 Audi Q5 was better than the outgoing model in every way. The German luxury automaker did just that, and you can expect the new 2018 Q5 to take over where the previous model left off.
Audi started from scratch with new 2018 Audi Q5
Although it is customary for new vehicles to share parts with the previous-generation in order to save on costs and development time, the 2018 Audi Q5 shares basically nothing with the 2017 model. Indeed, Audi started basically from scratch when designing its all-new compact luxury sport utility vehicle.
Built on a new modular platform, it is wider and longer in order to offer more interior and cargo space. Passengers will now have more leg and head room, and overall weight has decreased by about 90 kilograms. Design-wise, the new 2018 Audi Q5 features sharper lines and a more muscular overall style, although most would agree that it also appears more refined and luxurious. As with most Audi models, an S-Line package is offered that gives the 2018 Q5 an even sportier feel.
Inside the new Q5, buyers get a more refined design that gives the compact SUV a more upscale feel. Materials are top notch and build quality is up to the usual Audi standards. The optional 12.3-inch Audi virtual cockpit is available and can turn your instrument display into a digital work of art that is customizable to your preferences.
A turbocharged engine for the 2018 Audi Q5
The 2018 Audi Q5 is powered by a 2.0-liter, four-cylinder engine that delivers 252 horsepower and 273 lb.-ft. of torque. This engine is paired to a 7-speed S-Tronic automatic gearbox, and owners can use the Audi Drive Select system to modify the behavior of their Q5 on the road, making more dynamic, more fuel-efficient, or more comfortable depending on their needs and preferences.
A more powerful engine is offered in the 2018 Audi SQ5, but we will keep that model for a separate review.
The new Q5 also features Audi's brand new Ultra Quattro all-wheel drive system. Designed to be more fuel-efficient while providing the same level of grip, stability, and all-weather traction Audi buyers have become used to, Audi's Ultra Quattro can now disengage the rear axle when all-wheel drive is not needed in order to save fuel.
To learn more about the new 2018 Audi Q5, contact us today at Audi of Mississauga!